Vergo


Universe
One Piece
Appears in
Super Smash Bros. Tourney 2: The New Challengers
Availability
Unlockable
Bonus Costume
Age 28 Vergo
English voice actor
Dameon Clarke
Japanese voice actor
Junichi Suwabe
French voice actor
Antoni LoPresti
German voice actor
Maximilian Belle
Arabic voice actor
Adel Abu Hassoun
Mandarin Chinese voice actor
Fu Shuang
How Vergo joined the Tourney
"Demon Bamboo" Vergo was one of the four elite officers and the first to occupy the Heart seat of the Donquixote Pirates under the codename Corazon. He was a Marine vice admiral, and head of G-5, who made his first debut at Punk Hazard. Due to his duplicitous conduct and allegiances, he can be considered the secondary antagonist of the Punk Hazard Arc.
Under cover as Corazon, Vergo poses as a waiter at L'Amor restaurant in Southtown. His rude treatment of angry customers arouses suspicion of King.
How to unlock
Win 161 matches with Doflamingo
Play 428 matches
For both methods, you mist fight Vergo at the Punk Hazard Lab. Alternatively, you can avoid clashing with Vergo by wishing for him from Black Star Shenron, or purchasing him for 375 Smash coins in the Smash Store. After defeating Vergo, wishing for him from Black Star Shenron, or purchasing him from the Smash Store, the announcer will say "Someone else has joined the Tourney!" after a Smash Ball appears on the lower-right corner of the screen with a message saying "You can now use one of the Donquixote Pirates elite officers of the Heart seat, Demon Bamboo Vergo!" He will be seen right of Mega Man Volnutt, left of Alioth Epsilon Fenrir, and below Morgiana.
Character Select Screen Animation
When highlighted
Vergo holds his bamboo stick near his chest.
After the announcer calls his name
Vergo swings his bamboo stick then imbues himself with Busoshoku Haki as the camera zooms saying "I'll make you truly understand where you stand."
Special Moves
Bamboo Shot (Neutral)
Vergo shoots a bamboo arrow out of his bamboo stick at the opponent.
Shigan (Side)
Vergo moves his left hand up and swings it, sending blasts of energy out.
Geppo (Up)
Vergo walks into the air and comes down slamming his bamboo stick.
Bamboo Staff (Down)
Vergo spins his bamboo stick around him in circles six times.
Demon Bamboo (Hyper Smash)
Vergo spins his bamboo stick at high speeds then gives an unblockable swing.
Busoshoku Haki Armor (Final Smash)
Vergo glows then his body becomes empoweredwith Busoshoku Haki. His defense is more durable and will take eight hits to flinch. His attack power is also increased. This lasts 75 seconds.
Bonus Costume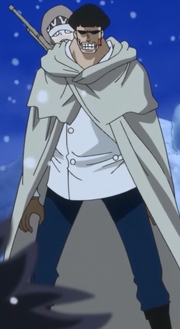 Vergo holds possession of one Bonus Costume, that being his age 28 appearance. To unlock, one must fight Keesi in Classic Mode with Vergo and win, then finish Classic Mode. After that, the announcer will say "You've earned a new costume!" and a Smash Ball (appears on the lower-right corner) will appear with a message saying "You've made Vergo young again!" Then, highlight Vergo and press Minus.
Victory Animations
Vergo swings his bamboo stick two times then says "With enough willpower, even a bamboo stick can be deadly!"
Vergo fires a Shigan and says "Your fate is sealed here."
Vergo shields his face then covers his body in Busoshoku Haki then punches the ground and says "I'll handle those who know my true form."
On-Screen Appearance
Vergo sky walks to his starting point and says "I'll have to kill you now since you've seen me."
Trivia
Ad blocker interference detected!
Wikia is a free-to-use site that makes money from advertising. We have a modified experience for viewers using ad blockers

Wikia is not accessible if you've made further modifications. Remove the custom ad blocker rule(s) and the page will load as expected.