This article is about Pinky Dinky Doo. For the mouse, see Pinky.
Pinky D.D.


Universe
Pinky Dinky Doo
Appears in
Super Smash Bros. Tourney
Super Smash Bros. Tourney 2: The New Challengers
Availability
Starter
Bonus Costume
Pinky's Pajamas
English voice actor
India Ennenga
Japanese voice actor
Ikue Otani
French voice actor
Sabrina Leurquin
German voice actor
Shandra Schadt
Arabic voice actor
Mitra Hajjar
Mandarin Chinese voice actor
Xu Fan
How Pinky D.D. joined the Tourney
Pinky Dinky Doo continues her research on her Story Box 2.0. Disappointed that she was unable to recover the data before her television show was cancelled, Pinky returns home and resumes her research. Each time her work hits a dead end, she is reminded of the data that she was unable to retrieve. At that point she received a letter addressed to her in a foreign language. Attached is an announcement of the Smash Bros. Tourney. In order to fulfill her hopes for her upgraded Story Box, Pinky decides to enter the tournament.
Character Select Screen Animation
When highlighted
Dances around in place.
After the announcer calls her name
Pinky D.D. dances to the camera and yells "OH NO! I'VE GOT THE POLKA DOT POX!!!".
Special Attacks=
Energy Balls (Neutral)
Pinky gathers balls of energy in both of hands and then kneels. As she lowers herself, her hands clap together and fire a powerful beam forward. It is unblockable, but still deflectable.
Dance Spin (Side)
Pinky dances into her opponent, damaging them on contact.
Elevate (Up)
Pinky is elevated by an invisible platform.
Drill Palm (Down)
Pinky torpedoes forward with both palms out. Much like Wolverine's Drill Claw.
Pinky Dinky Boom (Hyper Smash)
Pinky throws the opponent in the air and yells "SHAZAM!" A lighting bolt then strikes the opponent down into the ground.
Radioactive Dance (Final Smash)
Pinky stares forward harshly and says "I know. I know." then she does a punching/kicking dance saying "My hair is pink, and my name is Pinky," whilst leaving radiation trails to poison opponents. After 20 strikes, she strikes a pose saying "but I don't... like... PINK!!!!"
Bonus Costume=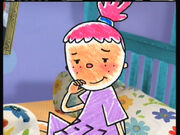 Pinky Dinky Doo holds possession of only one Bonus Costume, and it's her pajamas. To obtain the costume, either Mokujin, Tetsujin, or Kinjin must be defeated by Pinky, then Master Hand must be defeated as well. Following victory, the announcer will say "You've earned a new costume!" and a Smash Ball (appears on the lower-right corner) will appear with a message saying "Pinky Dinky Doo looks like she's ready to face off with Princess Aurora!". Then, highlight Pinky D.D. and press Minus.
Victory Animations
Pinky does Law's Street Fighter X Tekken victory pose saying "I love making up stories! I'll bet you can make up a story too!".

Pinky does Law's Street Fighter X Tekken victory pose saying "Alisa, you may not know it, BUT I DON'T LIKE PINK!!!". (Alisa victories only)

Pinky does Lili's Street Fighter X Tekken victory pose saying "My whole class has the same thing I do?!".

Pinky does Lili's Street Fighter X Tekken victory pose saying "You were strong, but not strong enough to fight Pinky!". (Feng victories only)

Pinky waves at the camera saying "I'm glad my story made you feel..." then sneezes.

Pinky waves at the camera saying "Natsumi Tsujimoto is no longer..." then sneezes. (Natsumi victories only)
Pinky waves at the camera saying "And Shin Kamiya has been..." then sneezes. (Shin victories only)
On-Screen Appearance
Pinky dances up to her start point saying "I know somebody who has a really good singing voice.".
Special Quotes
Trivia
Pinky Dinky Doo universe
Characters

Pinky D.D.

Stages
Characters (SSBT2)
Ad blocker interference detected!
Wikia is a free-to-use site that makes money from advertising. We have a modified experience for viewers using ad blockers

Wikia is not accessible if you've made further modifications. Remove the custom ad blocker rule(s) and the page will load as expected.